My Wheel Doctor can easily weld cracked rims by high quality aluminum welding. Tungsten Inert Gas (TIG) Welding, is an arc welding process that uses a tungsten electrode to produce the weld. The weld area is protected from contamination by an inert gas such as argon. Tig welding is more complex and difficult to master than most other welding techniques.
TIG Weld Repair Service: $125 first crack* and $35 each additional crack
Your low profile tires can look sleek and sporty. However, a thinner tire means less protection for your rim. Hitting one pot hole too many might lead to a cracked rim that leaks air. Our expert welders can perform a quality TIG weld repair and get you back on the road in no time.
My Wheel Doctor has the most excellent workforce in the State. Our brilliant staff will make their best effort to repair your broken wheel.
We can do almost any type of wheel repair, for instance, here are some of the following services we provide: Alloy wheel repair, Aluminum wheel repair, Chrome wheel repair and Steel wheel repair. Our specialists determine if the rims are safe to be repaired.
Don't buy new ones, don't throw them, repair them! Even if you have a piece missing, we can reconstruct the rim.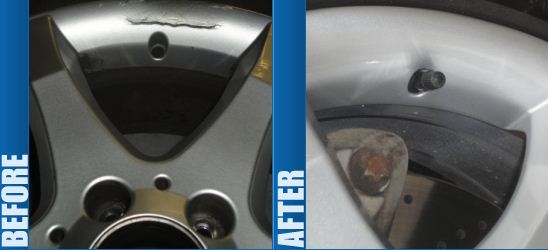 At My Wheel Doctor, our crack repair expert team has well trained by a master certified welder specializing in aluminum wheels. We use top quality, Miller welding equipment.